Automotive Service Technician Job Description Template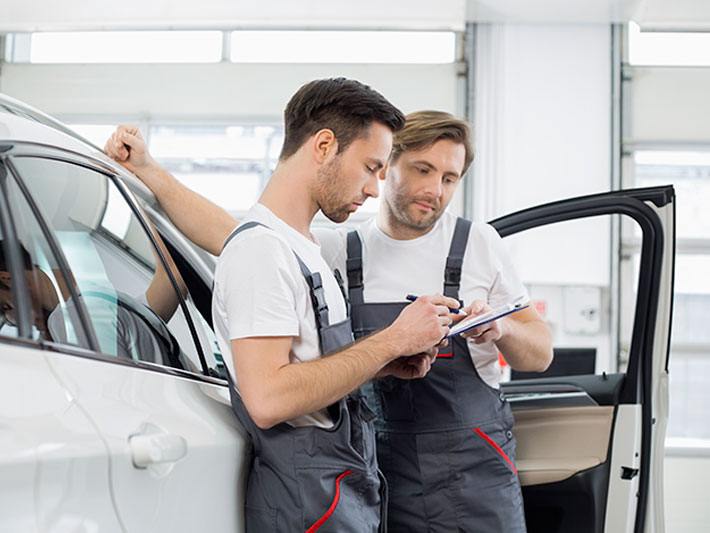 This automotive service technician sample job description can assist in your creating a job application that will attract job candidates who are qualified for the job. Feel free to revise this job description to meet your specific job duties and job requirements.
Automotive Service Technician Job Responsibilities:
Maintains vehicles by cleaning and servicing them; driving vehicles to locations.
Automotive Service Technician Job Duties:
Organizes work by reviewing daily requirements; checking and gathering supplies.
Completes vehicle service requirements by washing windows, lubricating, changing filters, tires, and belts, keeping coolant, window cleaner, and tire air up to level, etc.
Keeps vehicles presentable by washing and polishing exterior; vacuuming and polishing interior, removing waste.
Stores and retrieves vehicles by driving and parking vehicles.
Secures vehicles by locking doors, windows, and trunks; observing and reporting suspicious persons and incidents.
Maintains safe environment by watching out for pedestrian traffic; following standards and procedures; complying with traffic and driving regulations.
Updates job knowledge by participating in educational opportunities; reading service publications.
Accomplishes maintenance and organization mission by completing related results as needed.
Automotive Service Technician Skills and Qualifications:
Equipment Maintenance, Lifting, Decision Making, Problem Solving, Reporting Research Results, Self-Motivated, Judgment, Results Driven, Quality Focus, Productivity, Safety Management
Are You Hiring an Automotive Service Technician?
Now that you have your job description in hand, it's time to start connecting with candidates. If you're looking to speed up the process and get to qualified applicants quickly, Monster is here to help. Learn how you can get started with a free job posting.
————————————
Job Seeker? Search Automotive Service Technician Jobs and apply on Monster now.
Learn more about the hiring process: 
TargetPost
Only $119 to post a 14-day job. Hire top talent in retail, healthcare, food services and more.