Mission, Vision and Values Statements For Small Business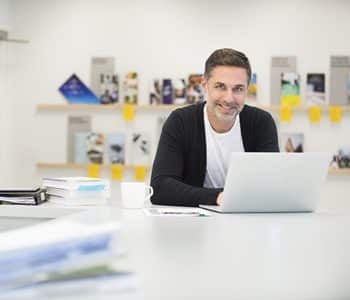 By Mark Swartz
Given rapid changes, taking time to plan for the future may seem quaint. It's better to be completely agile, right? Shifting quickly and constantly is the way to survive.  Don't worry, your people will follow in lockstep.
Or maybe not, if they don't know the underlying business direction. Your company's mission, vision and values are the guiding stars that – no matter which way you veer – serve as fixed navigation points. A topline strategy encapsulates these elements for all employees to see.
Why Topline Strategy May Be A Low Priority
Small businesses growing quickly may scoff at planning that isn't linked directly to immediate results. "It distracts from day-to-day operations" is one counter-argument. "The strategy is obsolete the moment it's printed" is another.
These objections have some merit. Topline strategies lack specific financial targets or detailed action plans. As such they differ from annual or quarterly business plans, and from full strategic plans too. For companies already doing well, why not just keep on keeping on?
The Value Of Strategy
There is merit in deconstructing your company's essence. For starters it gives stakeholders (especially key employees and management) a chance to work together in creating a shared vision. The consensus building and individual buy-in make for greater cohesion moving forward.
When all staff are made aware of the mission, vision and values, they can put them into practice in every activity. That way each project helps achieve the pre-stated goals. Also short-term business plans can be based on these overarching principles in addition to business intelligence.
Producing A Mission Statement
Atop a full strategic plan is the mission statement. It is a declaration of why the company exists and what it's main purpose is.
Here is a mission statement example for an upscale spa in a major Canadian city:
"We are the leading world-class spa in Vancouver. Our location is a getaway from everyday living that relieves stress and improves the health of our customers. We build enduring relationships with our clients and employees by creating notable experiences, providing professional care and products, while honouring the environment."
Note that the mission of an existing company focuses mainly on the present. It defines the core of what is being offered. For start-ups the mission is an aspirational statement.
Envisioning The Future
After establishing the basic mission, look ahead. Where would you like the company to be in the future? A three to five year time horizon is sufficient. Start-ups should include a reference to their expected exit strategy.
Capture these ambitions in a vision statement. For the spa, this is a vision statement example:
"We will grow into a province-wide chain of highly profitable superior spas in the next five years, targeting B.C.'s top seven cities, replicating our core offering in each location, while catering to local tastes and preferences."
Base your vision on valid market intelligence so that projections are pragmatic.
Vetting Your Values
How will your business fulfill its mission and achieve its vision? Hopefully not by cheating customers or treating staff miserably. If you want to hire employees for fit and encourage a specific culture, express this in your values.
Values of the spa:
"We will always treat our customers, suppliers and fellow employees with honesty, courtesy and respect. Though we are the experts in wellness and service provision, we will always be willing to learn and embrace the new as it supports our mission and vision statements. Environmental stewardship will be demonstrated from the products we use and sell to the way we power our spas and cleanly re-use/recycle resources."
Plans Evolve As You Do
Like your shorter-term business goals, strategies are modified as conditions change. Along the way there will be competitive reactions, supplier disagreements, local staffing challenges and legislative roadblocks.
Your mission and vision should adjust accordingly. Revisit them every year or two. Values might remain constant or require a bit of tweaking. In this way topline revisions will always contribute to enhanced decision making.
Build a Team That Aligns With Your Core Values
Once your small business has nailed down your mission, vision, and values statements, you'll have a much clearer picture of the path forward. This includes the important task of hiring the right team. Are you ready to hire? Get your job opening in front of talented candidates by posting your job for free at Monster.