Should Companies Enforce Flu Shots in Canada?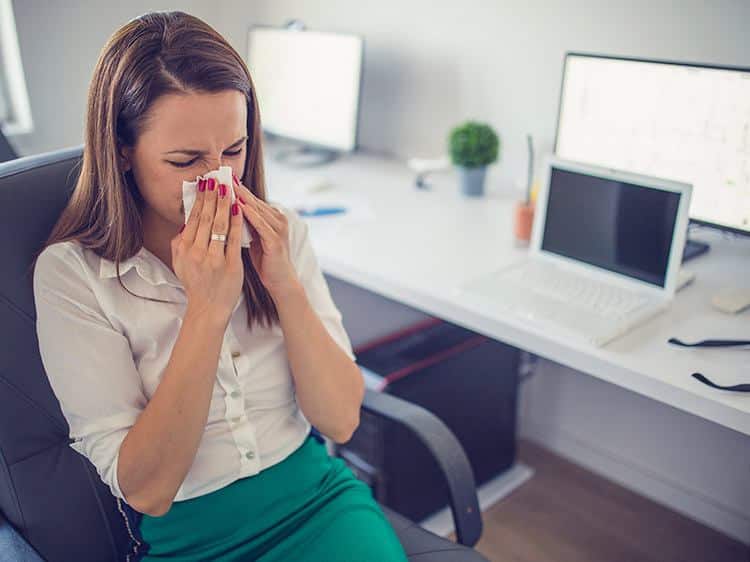 By Joanne Richard
Flu season is upon us and that means if you work in close quarters with others, you're particularly susceptible to the highly contagious virus.
There's no need for that flu-bitten colleague to even touch you to spread the virus – droplets from their coughs, sneeze or talking can take you down from six feet away.
You're up against a wall – and so too employers. "The only thing worse than having one person under the weather is having an office filled with them," says Sheryl Boswell, of Monster Canada. "While it seems like a no brainer – stay home if you are sick – it isn't always the norm."
What is a company to do? Demand flu shots? Mask them all? Take temperatures at the door and turn them away? Coercion and threats?
Flu season costs companies millions per year in sick days and lost productivity. It's an ongoing health challenge and millions of Canadians are downed by the flu annually – and some take it to work with them. According to a Monster Canada poll in November, 1 in 6 Canadians go to work no matter their symptom severity. Presenteeism, attending work while unwell, is alive and well and making others unwell.
While the flu vaccine is believed to offer the greatest protection against the virus, mandated immunization is a rarity in Canada – and contentious. In the past few years, instituting flu vaccination policies for health-care workers during flu season has become a flashpoint, with the 'vaccinate or mask' policy starting in British Columbia hospitals and moving to some health-care facilities in Ontario (where it was struck down just last year).
Certain companies and organizations, because of their contact with individuals at risk for influenza, are strongly suggesting that their employees get the flu shot, but they are not making it mandatory, says workplace wellness expert Beverly Beuermann-King @sostostress. "Instead they have immunization 'champions' to help spread the word – employees who help encourage others as well as inform them of the negative impact of not getting the flu shot. This softer approach has been found to be more effective at getting employees onboard with less resistance and negative impact to the organization. It's all about education."
Companies need to be careful if they choose to make it a requirement of employment, stresses Beuermann-King, of worksmartlivesmart.com. "Last year, an arbitrator sided with the Ontario nurses union and struck down a mask or vaccine policy at Sault Area Hospital in Sault Ste. Marie. This decision will impact other companies that have tried to make the vaccine mandatory and a condition of employment."
Another more subtle workplace approach is hosting on site flu clinics – these are growing in popularity as an extension of healthy corporate cultures. FreshBooks is one of many Canadian companies bringing healthcare to its 250 employees. "We had The Health Team come in for an all-day onsite flu clinic in November," says Dale Gago, of FreshBooks and @DaleGago. "We don't actually have policies on coming to work sick or flu shots, although we're strongly encouraged to stay home if sick."
Most don't have written rules. Currently UPS does not have a policy in place regarding flu shots, says Lisa Canzona, however their package delivery employees are encouraged to protect themselves and those around them from the flu by washing their hands frequently, coughing and sneezing into the bend of their arm and getting plenty of rest.
Rogers Communications Inc. also promotes a wellness culture that includes seasonal flu clinics at most of its work sites, as well as providing employees with the facts around the safety and effectiveness of the vaccine, and conducting surveys to determine interest and intention to attend the clinics.
The Health Team is a Canadian company specializing in bringing wellness services to workers and this past year provided 1,293 onsite flu shot clinics across Canada for 367 organizations and administered 30,942 flu shot. "I don't think most organizations, aside from hospitals, clinics and other healthcare organizations, have flu shot policies," says Joshua Hart Pollack, of The Health Team and @thehealthteam.
Convenience matters when it comes to getting the flu shot, their research indicates. Just over 550 employees at a large client were asked: If your employer did not provide an onsite flu clinic would you have sought out a flu clinic on your own? and 35% responded No. Many employees have good intentions of being vaccinated but there's no time and it's often a hassle.
Boosting employee productivity and health with a hearty dose of workplace wellness provides a great return on investment, and that includes keeping sickness at bay by keeping germs away and encouraging sick people stay home.
Another Monster Canada survey reveals that while more than half of Canadian workers feel guilty calling in sick and would rather bring their illness into work, the majority of bosses say don't come in! Furthermore, 86% of employers agree their employees are more productive when they take a sick day to recover from illness.
Employers need to make their position on sick time and sick days very clear to staff. "Make sure your employees know what they are allotted in terms of sick time," says Boswell, of @sherylboswell. "Be understanding and non-judgmental when employees call in sick. Don't press for details, if not needed, and let the employee know that their health is very important to the success of your business. And encourage them to get the flu shot."
Beuermann-King adds that individuals are more at risk of contracting various viruses when their resources are down so it's also important to institute "stress management and resiliency building strategies, such as the workshops that I provide, to help more employees stay healthy and have fewer days away from work."
***
Germs, germs, go away!
"The workplace is a bastion of microbes and every single surface will be coated with thousands of them," says germ expert Jason Tetro, aka The Germ Guy at jasontetro.com and @JATetro. "Most are not pathogenic but when you bring in someone who is sick and shedding bacteria and viruses, you can expect all surfaces within six feet of that person to be contaminated for at least a day."
Take Tetro's tips:
Keep hand hygiene a priority, especially when sick people are around. Up to 80% of infections are transmitted by hands so keeping them clean is a definite priority.
Keep a scarf or necktube close. The other route for infection is the air and having a fashionable mask may help during those moments when you have no choice but to be near a sick person.
Be alert! Sick people are usually easy to spot so you can find ways to keep that social distancing so you don't end up having to deal with an unwanted illness.