Improving employee skills through job-related education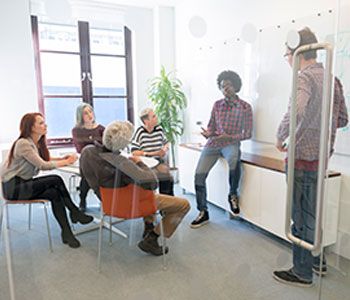 By Ryan Weaver
Marketing Specialist

The Canada Job Grant
was conceived in order to address the desperate need for government, academic institutions, and employers to work together to build and maintain a world-class workforce capable of competing in the knowledge economy.  
Canada`s employers have been investing less in workplace learning

While the question of whether or not Canada is in the midst of a serious skills shortage may be open to debate, recent statistics indicate that Canadian employers are less likely to invest in employee training. The Conference Board of Canada points out that over a period of two decades employer spending on training and development declined by about 40%, from $1,207 in 1993 to $705 in 2013.
Canadian adults received 49 hours of job-related non-formal education in 2009 versus the OECD average of 59 hours. This represents less than half the hours received by adults in Denmark (105 hours), and well behind Belgium (86 hours), Finland (74 hours), Austria (69 hours), Norway (69 hours), and Germany (61 hours).
The report highlights the fact that only 29 per cent of adult workers in Canada participate in job-related education and training, compared to 34 per cent in the U.K. and 44 per cent in the U.S. In terms of training costs as a percentage of payroll U.S. firms spend about 50 per cent more on training programs than Canadian firms. 
 

Canadian businesses question the retun on employee training

The main reason suggested for employers' reluctance to invest in training is the fact that they are not convinced of the return on investment when compared with other forms of investment, including physical capital and equipment.
Now, with the Canada Job Grant, businesses can reduce the financial commitment and improve the ROI of training via grant funding. The Canada Job Grant is now available and businesses across the nation are vying for up to $300 million per year in funding until 2020.
  
The Fed and province of Ontario commit over $1 billion to support employee training

Estimated at $300 million per year over a six-year period, the provinces and the Federal government will commit over $1 billion, making the Canada Job Grant one of the most lucrative funding for training programs available to employers. The program will cover up to two-thirds of training costs (to a maximum of $10,000 grant support per trainee), with the business being responsible for contributing 33 percent of the total training costs. The deal for smaller businesses of less than 50 full time employees is even more attractive as a portion of their trainees' wages can be contributed to the company's 33 percent contribution.

Training eligible for funding through the Canada Job Grant
The government of Ontario will support employee training initiatives for businesses that wish to upgrade their existing employees' skill set or train new hires, including employers in the agriculture and food processing sectors. Firms wishing to cash in on the Canada Job Grant to cover training costs may apply for assistance in financing a vast number of programs and expenses including but not limited to:
• Third-party trainer costs;
• Course registration fees;
• Examination expenses;
• Textbooks;
• Course materials;
• Training related software; and
• Professional development training.