Affordable Applicant Tracking And Talent Management Systems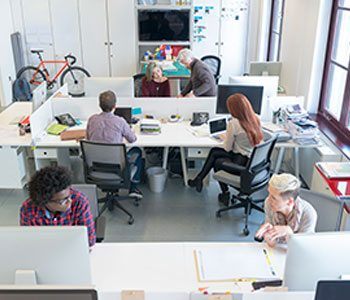 By Mark Swartz
Monster Contributing Writer
So much of the recruiting and employee development process can be automated today. Smaller employers no longer have to review, sort and rank resumes manually. Larger companies can manage entire portions of the hiring and employee development cycle.
This is thanks to the advent of Applicant Tracking and Talent Management systems. Now employers of any size can access these tools like the bigger players do.
An Overview of Applicant Tracking and Talent Management Systems
What are Applicant Tracking and Talent Management Systems? They are tools that automate a portion of your recruiting and employee management efforts..
For smaller businesses
, an Applicant Tracking System (ATS) is the right solution. It automatically receives applications from your job seekers, sorts them so they are easily retrievable, and ranks them according to a set of criteria that you determine.
A Talent Management Suite (TMS) is a broader set of tools for employers that want to begin the best practices of talent management and retention. It consolidates an ATS with post-hire modules to enhance the solution. These modules can include performance management, career and succession administration, and learning solutions
Applicant Tracking Systems For Smaller Businesses
As a smaller business, you look for ways to save time and money when recruiting. Yet you also want to assess all applicants thoroughly. Saving dollars doesn't matter if you overlook the best talent.
An ATS should offer four basic functions to streamline your hiring process:
·

        
Resume Management
The resumes you receive need to be stored and retrieved electronically in a central location. This eliminates having to check multiple sources.
·

        
Applicant Tracking
When did each resume arrive? From which source did it come (e.g. from Monster.ca, or from a social media site where you've posted the job – such as LinkedIn, Facebook, Twitter – or another job bank?) Has the candidate been communicated with? Applicant Tracking keeps all of this info in synch, ready to retrieve when needed.
·

        
Sorting and Ranking
How effcient it wouuld be to have all your applicants sorted so that the better ones come out on top. An ATS enables you to choose the criteria that most reflect the skills and knowledge required by each job posting. It ranks the job seekers by how closely they match these measues. Don't forget, however, to think outside the resume for your next hire.
·

        
Candidate Screening
Any applicant can claim to fit your job requirements. But there's no sense engaging if they don't really have the required skill sets. To avoid wasting your time, an ATS puts the candidate through a series of questions (or tests). The people who don't pass get screened out.
Talent Management Systems For Employers of all sizes
A more robust solution is required when trying to identify top talent and find those high potential performers. Enter the TMS. This system adds modular scalability to its list of features. It also provides Talent Management throughout the employee life-cycle. For maximum flexibility, a TMS should have the following elements:
·

        
ATS That Is Fully Configurable
Includes all the regular elements of an ATS, but also lets you manage recruiting from requisitions to offer details and new employee onboarding. Incorporates candidate relationship and communications management, plus delivers extensive reporting capabilities and provides high levels of configuration to ensure the system matches with both your current and future processes.
·

        
Post-Hire Tools
Consists of
Performance Management, Career & Succession Management, and Learning Management: modules. Helps you develop and retain your talent, while cultivating a more engaged and productive workforce. Many studies and research have shown that more a more engaged workforce will produce better results in a more efficient manner.
Career Site Hosting For Employers Of Any Size
Whether you use an ATS, TMS, or still sort resumes manually, a hosted Career Site lets you focus on running your business. The Career Site
seamlessly forms part of your overall web presence
. Your
employer branding
stays consistent, and the pages make it easy for job seekers to find your jobs, apply to them, and learn more about your workplace.
Integration With Your Existing HR Systems
A TMS has to be compatible with your current operating systems. It should offer a Business Gateway that lets you integrate your hiring protocols with the TMS tools. A Business Gateway enables data transfers to assist you in managing the entire recruitment process.
Monster.ca Offers ATS and TMS For Any Sized Employer
From pre-hire to post-hire, Monster's ATS and TMS give you the tools to quickly and easily see return on one of your greatest investments—your employees.