Should You Use Career Transition Services When You Downsize?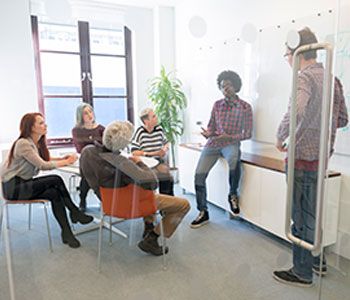 By Mark Swartz
Canadian Workplace Specialist
You made the tough decisions. You've positioned your company for the future. However you had to reduce staff to do it. Now you want to help these former employees land on their feet.
Doing so is easier with assistance from Career Transition programs. They aid your downsized staff in moving forward work-wise. But are they right for your company?
What Career Transition Services Consist Of
The following elements are standard: career management tools such as personality and skills assessments; advice on branding yourself effectively as a job seeker; interview preparation; resume and cover letter writing.
All of this is provided free of charge to the employees you elect to provide with Career Transition services. The programs can be delivered either with, or without, the help of a trained Career Coach. They may be accessible online only or face-to-face as well. Your budget will determine the particulars.
How You And Your Company Benefit
Your downsized employees will appreciate the Transition services they receive. They'll learn all they need to know about searching for work in a competitive market. Typically this reduces the time it takes for them to get re-employed at a similar (or better) level than before.
You and your company can gain as well in the following ways:
Your company's brand and reputation are better protected 
Remaining staff will feel less apprehensive about being laid off if they know you will help take care of them during their transition
On top of this you are doing the "right thing." Ethically this puts you in a smart position. And you can feel less guilty about letting go the really good people for no fault of their own.
What Should You Look For In A Career Services Provider?
Obviously pricing of programs will be a main consideration. Beyond that there are other key factors to mull over. One of these is flexibility: can your provider accommodate your downsizing needs and adjust quickly to changes?
Another aspect is the ability to offer live coaching versus online resources only. If you can afford the extra fee, nothing beats having a Career Coach available for real-time discussions and customized feedback.
Are your managers or HR people unfamiliar with the downsizing process? Some Transition firms will train your staff on how to terminate properly. If you are planning a large layoff, you'll want a Transition provider that can assist you in managing the logisitcs and offer on-site support.
Geography may be an issue for your company. This would be true if you have multiple locations, especially if they are distant from one another. Having a single Transition provider that can cover each location could be an important feature.
What about office space for your downsized employee? Most people these days have a home computer and internet access, so perhaps office access isn't critical. If it is – and if you place a premium on face-to-face networking and coaching – you will want to choose an appropriate provider.
Monster Evolutions: Career Transition Services for Canada
Here at Monster.ca we are pleased to provide Career Transition services via
Monster Evolutions
. Our programs can include:
Career management tools and services to help workers assess career plans and position themselves for success
Private, company-branded microsites to facilitate social networking and help former employees and employers share information about work and events, refer opportunities, and share successes

Scaleable online and offline services, including coaching and counseling that give the kind of personalized attention that many displaced workers need
To make Monster Evolutions part of your strategy for supporting your transitioning employees, just give us a call at 1-800-MONSTER. We'll make Career Transition one less worry for you, and one more positive experience for your former employees. We help you
downsize your staff diplomatically
.