Say "Thanks" This Thanksgiving to Your Staff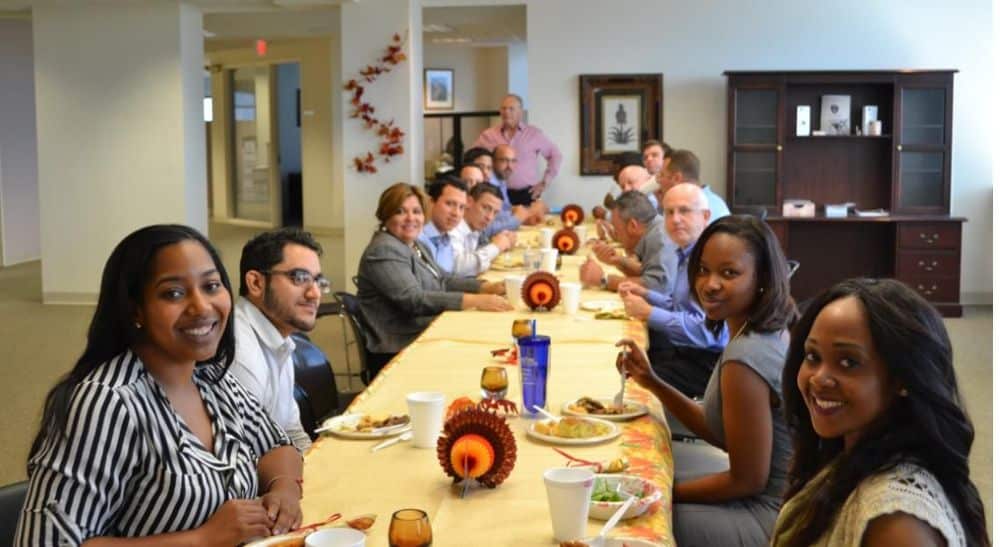 By Jennifer Williamson
Thanksgiving is a time for families to come together, enjoy each other's company, and give thanks for the many good things in their lives.
But Thanksgiving – and the spirit of the holiday – doesn't have to be limited to our time outside of the office. While employees will be taking time off to celebrate with their families, companies can also employ some fun ideas in the workplace to show appreciation and give thanks for hard work throughout the year.
Here are a few ways employers can celebrate the harvest holiday without blowing the budget.
Turkey and Treats
The meaning of Thanksgiving, to many, is buried under the mashed potatoes. So it seems fitting to find a way to bring the food traditions to the workplace. Some companies may host a Thanksgiving lunch for employees with the staples like turkey, stuffing and cranberry sauce.
But if you haven't allocated budget for an all-employee lunch this month, you can encourage employees to participate in the celebration by bringing in their favourite dish to share with colleagues. Hosting the potluck lunch a few days before the holiday can give people a chance to dust-off or practice their new or tried-and-true recipes before the holiday with their families.
This is a way for employees to show off their skills in the kitchen and enjoy a convivial meal together. Probably best to schedule this for a Thursday or Friday, as productivity may drop in the afternoon when the tryptophan sets in.
In addition to a potluck, you could host a bake-off where employees submit, anonymously, their best baked good for others to enjoy. Who doesn't love a good competition, especially one involving sweets?
While not all are great bakers, the role of taster is available to everyone to try each of the sweet treats and pick the winner.
The baked good with the most votes could win a small prize – perhaps a gift card to a local kitchen supply store to fuel their baking habits.
The recipes could even be compiled into a small recipe book to be shared with everyone.
Wall of Thanks
Does Joe always have a smile on his face and a warm hello? Did Phil make an insightful point in the last team meeting? Did Maria stay late to help Karen finish that big project?
Every day your employees do little things for each other that can make one another's job better, easier or more efficient. With an anonymous "wall of thanks," employees can thank each other for the little things that may not be considered for a larger recognition program, but still make an impact.
With note cards, or sticky notes, employees can say a little thank you to someone who made a big difference in their workday and contributed to a successful and pleasant workplace.
This wall is a celebration for employees' role in improving the company.
Volunteering
Volunteering is extremely valuable; it can be an inexpensive motivator for employees, a way to increase engagement, and, of course, an important way to foster positive change in your community.
During the holiday season many homeless shelters, food banks and other community centres have opportunities for large groups to volunteer together.
An all-employee volunteer day – or half day – can be a good way to nurture the spirit of Thanksgiving within your team.
Giving back to the community in a hands-on way can help make meaningful bonds amongst your employees, and also remind them that they work for a company that has strong values and purpose.
This is an important activity that could be undertaken at other times during the year – or encouraged by giving employees volunteer leave to participate in a charitable activity of their choosing.
Thank You 'Grams
Similar to a thank you wall, thank you 'grams provide an outlet for your employees to thank each other for a job well done.
A personalized note plus a small gift (candy, treat or gift card) will go a long way to make employees feel appreciated for their hard work at the company.
To amplify the "thanksgiving" of this idea, the employees could pay a few dollars for the 'grams and then the proceeds could be donated to a local community organization (maybe the one the company just volunteered for!).
For more tips on how to celebrate your employees' hard work during the holidays, or to keep up on HR trends, visit hiring.monster.ca.