The Value of Volunteer Initiatives at Work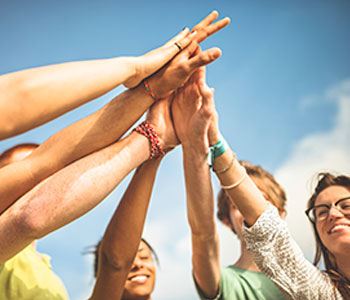 By Mark Swartz
Canadian Workplace Specialist
What makes your company look good and your employees feel better, while your customers and community sing your praises? Just ask Oracle, Bell and The Royal Bank. Intuit Canada too.
We're talking about workplace volunteering initiatives. Such as when Oracle invites its staff to help build houses for the less fortunate with Habitat for Humanity on company time. Or when Intuit Canada offers paid volunteer time that gives employees up to four days paid time off per calendar year to volunteer for eligible charities. The company also matches funds raised by employees who participate in fundraisers: up to $1,200 in donations raised per employee per fiscal year.

Give A Bit…Get A Lot
A growing number of companies are developing corporate volunteering strategies. For instance, the Volunteer Canada Corporate Council on Volunteering was founded in September 2005 through a partnership between Volunteer Canada and Home Depot Canada. The Council brings together a group of Canadian corporations who support employee volunteer initiatives – and hope to inspire other business leaders to do the same. It is comprised of varied members and includes senior executives from such companies as Bell Canada, Best Buy Canada, Ernst & Young, IBM Canada, Investor's Group, Molson Canada, STAPLES Business Depot, and UPS Canada.
The benefits to all parties are evident.
For the company:
• Strengthens the company's position as an employer of choice with job seekers
• Cultivates good relationships between the company and the community
• Builds the company's brand with customers as a caring organization
• Creates stronger shareholder value
• Develops teamwork among diverse employees
For employees:
• Gives them time to contribute to society without cutting into their outside commitments
• Provides training and increases skill sets
• Fosters appreciation of community issues, and loyalty toward the employer
For the community:
• Fills a vital need for talented, committed volunteers
• Generates useful contributions that make a genuine difference
• Initiates points of contact and interaction that might otherwise be neglected

Strategically Align With Business Principles
If you're considering a workplace volunteering program, there are several aspects to keep in mind. First and foremost, the process should tie in to your organizational goals. Whether it is part of your Human Resources, Public Relations or Corporate Social Responsibility (CSR) agenda, make sure that it's geared toward bringing about win-win results for all.
Here are some tips on making the program successful:
• Partner with community agencies where practical. United Way, Volunteer Calgary and many other local and national agencies are eager to work with companies in putting together manageable, directly measurable volunteer campaigns
• Assign ROI benchmarks upfront. Are you looking for a boost on your employee survey results? Fewer defections by valued staff members? More press coverage? Be specific and realistic in each area
• Publicize the opportunities in-house. Use employee newsletters, internal communications and intranets to alert your employees regarding your volunteer initiatives. Make sure they understand that you are encouraging them to take advantage of the program. Managers should be briefed so that they can explain the benefits and rationales behind the initiative
• Coordinate with all departments. Payroll needs to know that days off for volunteering (within the specified parameters) count as paid days on the job. Managers need to make scheduling adaptations as required
• Promote like crazy. Let your customers know what you're doing (or consider inviting them to volunteer along with your managers, as some companies do). Issue press releases. Have staff interviewed on local cable programs. Release an internal video showing your people in action. Recognize top volunteers with rewards. Feature them in in-house communication vehicles

Make A Difference That Lasts For All
While it may seem impractical to release your employees during the workday, or pay extra money toward not-for-profits, the final results typically more than offset the investment. Happier employers and a grateful community make for longer term relationships that are sustainable. So step up your efforts and encourage your staff to get out there and make a difference.