Conduct Stay Interviews For Fewer Exit Interviews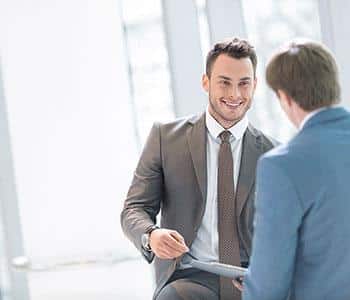 By Mark Swartz
Help them grow or else they'll go. Keep that mantra in mind when trying to retain valued employees.
A good way to keep them engaged is to give them what they need to thrive. How do you find out what they want? You could use a survey and get generalized results. Also you could wait until the exit interview (when they're leaving due to frustration), but by then it's too late.
The better approach is to make "stay interviews" part of your retention and engagement tactics. You'll get first hand, immediate input from staff about how to increase their contentment and loyalty.
The Basics Of A Stay Interview
Everyone knows about exit interviews. You conduct them after an employee announces they're resigning. You question them about what prompted them to go, and how you might have changed things to make them want to remain.
Stay interviews are similar except you don't wait for the employee to get disgruntled. The goal is to make that person feel respected, and to boost their loyalty and productivity.
When To Do Them
Stay interviews are generally conducted at least once a year, typically around the same time as the employee's performance review. However some employers do them every six months or so. That reduces the risk that unspoken issues will fester into unfixable problems.
For new hires, consider giving them stay interviews at four months and eight months. These early interventions can help prevent unwanted turnover.
What To Ask
Questions posed in a stay interview should uncover what motivates – and conversely, frustrates – the employee. Their answers will let you know what they need more of or want to eliminate.
Motivators
Can you list the factors that could contribute to your doing the best work of your life?
Do you feel that your work makes a difference in the company and externally?
Are there additional things we can do to leverage your talents and interests?
What actions could we take to further challenge you?
How can we recognize and reward your efforts in more meaningful ways?
Where do you see yourself within this company two years from now?
How might we assist you to get there?
Frustrators
If you could change negative aspects of your current job, what would they be?
How would you alter how you're managed if you were your own boss here?
What triggers would cause you to want to leave this job for another employer?
Setting The Tone
Employees might be somewhat wary of stay interviews. Staff do want to tell you honestly how they'd like to be treated. They are also keen to spell out resources they need. But they don't want their candidness used against them.
Start the meeting by reassuring the person that you have their best interest in mind. Be realistic too: tell them you can't guarantee all changes they request will be made, but you'll try and get the most important ones done.
Improving The Interview's Effectiveness
Don't just wing the stay interview. Come prepared and be ready to respond appropriately. Not everything you hear will be pleasant.
Bring that list of questions from above and add/revise as needed. You don't want to waste anyone's time or stray too far off topic.
Do more listening than talking. This is a chance to really hear what your employees are saying. What are their pain points? Which steps can you take to enhance their employment experience?
Equip yourself to talk about raises, promotions, transfers and the like in case they're brought up. Be honest about what you are willing to do and what lies beyond your control to change.
Avoid Sabotaging The Process
Trust and follow-through keep stay interviews credible. Nothing makes employees skeptical of them like overpromising and under delivering.
If you agree to perform an action, such as investigating additional resources or reducing irritating tasks, provide a timeframe in which you'll deliver initial results. You don't have to fix every problem. Nor are you expected to do repairs instantly.
If you give reasonable commitments and keep the employee informed of your progress, that's what they're hoping for.  Breaking promises, however, will damage trust. It might even be that last straw for your stars on the verge of resigning!