Be a diversity and inclusion workplace champion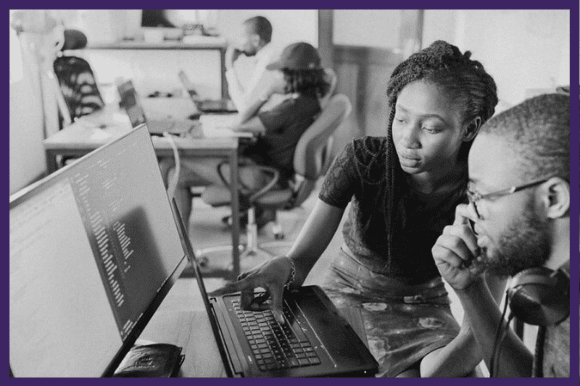 Attracting top talent and running a business that resonates with a wide audience requires a shift in diversity and championing an inclusive company culture.
Diversity and inclusion (D&I) practices make workplaces better, and there are simple things that any company can do to appeal to diverse candidates.  
There are not only proven tangible business benefits to bringing together different backgrounds, skillsets, and mindsets, but inclusivity resonates mightily with values and career purpose. Nearly half of millennials say that D&I of a workplace impacts their job search. 
"If organizations can't make meaningful commitments to D&I, you run the risk of having your offers declined," says Nadir Ebrahim, co-founder and lead of diversity and inclusion at WorkTango, a Toronto-based tech company that gives employees a voice and employers actionable insights. 
A 2018 study conducted by the Harris Poll found that 64% of all employees and 81% Black/African American employees say a potential employer's commitment to D&I would be an important factor in their decision to accept an offer of employment.
Innovation comes from all corners of the globe. Open doors to new talent pools with these tips: 
Make diversity your company culture
Promote a culture where employees feel like they can be themselves and thrive, a workplace where everyone feels like they belong, Ebrahim adds. "One of our company's values is to be 1000% you—it gives permission and creates space for people to be themselves."
Candidates can sense during the recruiting process whether a company is truly an inclusive and equitable workplace where they will feel safe, he says, and truly representative of the world we live in.  
"In our own recent recruiting efforts, we are finding diverse candidates really value organizations that are purposeful, committed to equity internally and externally, and actively working to dismantle systemic racism and other social injustices."
Remove names from resumes
To increase diversity, start with your recruitment and selection channels. Ensure that you have designed a system that attracts diverse applicants and supports hiring diversity, says Marie-Hélène Budworth, Associate Professor of Human Resource Management at York University. "Organizations need to identify the systemic barriers that exist within their hiring systems. This can be done by collecting data." 
For example, resume reviews are rife with unconscious biases. "Applicants with names that are traditionally non-white are often weeded out quickly. Consider removing names from resumes," Budworth advises.
Recruitment channels also matter: Make sure job postings are put in places where a range of people from various backgrounds will view it, and feel that it was intended for them, she adds. 
Watch your words too! "For example, when traditionally masculine words are used in an advertisement, we see more male applicants than female. Similar processes are likely to occur for race. "
Build a diverse hiring team
Additionally, ensure that your organization's hiring group has diversity within it. "Diverse hiring panels serve two purposes. First, they attract more diverse applicants and second, they broaden the decision making perspective," Budworth says.  
The fact is underrepresented demographics are less likely to be invited for an interview than equally qualified candidates, reports this study. Having a balance of ages, genders, experiences, abilities, races, and cultures brings a better perspective to the hiring process, and helps make sure diverse candidates are not overlooked. 
Tap into novel candidate pipelines
Champion diversity in the workplace via student recruitment and active outreach to student groups, suggests Laleh Moshiri, National Director of Diversity and Inclusion at Borden Ladner Gervais LPP, an award-winning Canadian diversity employer.
"We build relationships with diverse students by supporting their initiatives, bringing them to our firm for events, be it events that are targeted to them such as resume and mock interview workshops for the Black Law Students Association and Muslim Law Students Association, or our internal diversity speaker series," says Moshiri.  
The firm also supports several pipeline initiatives at law schools, including LSAT preparation courses for students in financial need.
Diverse candidates need sponsorship

 
Ensure that the ways in which your organization supports ongoing development opportunities, and that they are open and available to all, Budworth stresses. Also, make sure that the criteria, evaluations, and developmental programs do not favour one group over others. 
Beyond growth opportunities, people need sponsorship. "Diverse candidates need the types of relationships in organizations that support movement toward higher levels, through advocacy and the opening of doors," she says.
Employee resource groups boost inclusion
Employee resource groups go a long way toward empowering diversity and inclusion in the workplace. At Sodexo, a top Canadian diversity employer, D&I comes to life through their Employee Business Resource Groups (EBGRs) and includes employees from entry-level to management.
"Over 2,000 employees are active members who often volunteer with several groups. The EBRGs provide learning opportunities and events to network within Sodexo and the broader community," says Normand St-Gelais, Sodexos's Director of Corporate Responsibility. "In an inclusive environment, employees feel valued and engaged."
It's the little things that count
Put more focus on inclusion. It's all the small—and big—things that make people feel good about where they work and to want to stick around. 
Celebrate holidays and events for underrepresented groups, recommends Ebrahim. "For example, organizations can choose to honour Juneteenth as a paid holiday to provide employees with an opportunity for reflection, education, and advocacy." 
Have an inclusive office space. Your space says a lot about your culture, says Ebrahim. Consider using your walls to promote diversity and updating the language on your signage. "If you are an office that hangs wall art, ensure that the art is inclusive." 
Diversity comes from the top
There is no quick fix for workplaces that lack D&I. "A single training initiative or a few targeted hires are insufficient," says Budworth. 
Diversity needs to be a priority with leadership and top management teams, not just HR, to change systems, policies, and norms within the organization that contribute to racism and systemic bias, she says.  
Make space for diverse voices and opinions. Create a space where employees can call out systems that are inequitable—this should be valued, she adds.
Listening shapes company culture
Employees need ongoing opportunities to be heard, not just the traditional yearly engagement survey, adds Ebrahim, whose company offers short Active Listening surveys either bi-weekly, monthly, or even quarterly to measure employee sentiment. 
"The power of this shift is that it supercharges accountability throughout the organization and can really help shape culture," he says. "If leaders are aware that each survey will include questions specific to diversity, equity, and inclusion, you'll quickly see them make it a focus and see behaviours shift organization-wide."
Monster has several ways to help showcase your organization as a top diversity employer. Monster Studios uses video to give candidates more human insight into your company. In addition, Monster's employer branding agency The Foundry can provide you with tools and insight to promote your organization as the top choice for diverse job seekers.