Celebrating pride by promoting LGBTQ inclusivity at work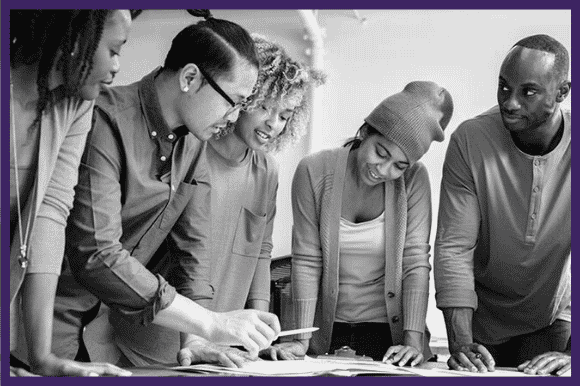 Celebrating Pride with your workforce is a year-round activity and doesn't need to be limited to Pride month in June. Prioritizing LGBTQ inclusion and creating programs to support diversity in your organization are important ways to support employees, but embracing diversity and inclusion as an employer also can make you more attractive to LGBTQ candidates. Plus, diverse perspectives drive innovation, creativity and foster a belief among employees that their opinions matter, which encourages them to give their best effort.  
Also, for companies looking to attract more gen-z candidates, it is is particularly compelling to have your hiring brand positively associated with LGBTQ causes. According to a 2019 census from Wattpad brand partnerships, only 56% of Canadian gen-z respondents identify themselves as straight or heterosexual, the lowest percentage of all generations. The study also asserts that to Gen Z views equality and equity as obvious human rights.
 Before we look forward, let's go back to the start of modern LGBTQ inclusion in Canada.
A little history 
In 1977, Québec became the first jurisdiction in Canada to amend the province's Charter of Human Rights to include sexual orientation as a prohibited ground for discrimination. 
In 1996, the Canadian Human Rights Act was amended to explicitly include sexual orientation as one of the prohibited grounds of discrimination, declaring that gay and lesbian Canadians are entitled to "an opportunity equal with other individuals to make for themselves the lives they are able and wish to have…" Bill C-16, enacted in 2017, protects individuals from discrimination as a consequence of their gender identity or gender expression.  
These days, many organizations have developed programs and policies to embrace LGBTQ diversity. They have gone beyond drafting a policy to integrating diversity as a core facet of their organization's culture. You'll find the leaders listed as Canada's Best Diversity Employers, for starters. All of them are proudly celebrating Pride.
Where we stand now 
Most organizations are aware of the importance of nurturing a culture of inclusion and positivity and uphold policies concerning human rights at the workplace. These policies include steps to address discrimination, differential treatment and harassment, as well as ways to encourage a healthy work environment. 
However, we still have quite a ways to go. In a 2015 survey, the Canadian Centre for Diversity and Inclusion found that 30% of LGBTQ employees in Canada reported experiencing discrimination in the workplace (compared to only 3% of non-LGBTQ employees). A 2017 Public Service Employee Survey noted that gender diverse (e.g. transgender, queer) federal employees are almost three times more likely to have experienced discrimination on the job in the last two years, compared to cisgender men and women.
Conversely, a more encouraging poll in 2019 comes from Canada's LGBTQ2 Secretariat. This federal department ultimately supports the work of the Prime Minister's Office. It found 90.5 percent of poll respondents were "very comfortable" or "somewhat comfortable" with a gay, lesbian or bisexual boss. That compares to just 7.6 percent who said they were "somewhat uncomfortable" or "very uncomfortable." Celebrating Pride reinforces these increasingly positive attitudes.
Managing diversity
With the support of senior leadership, organizations can establish their workplace as an equal opportunity employer, including taking steps to prevent and address human rights complaints. Below are some actions to consider as part of an overall Diversity and Inclusion Strategy: 
Develop and promote anti-harassment and anti-discrimination policies that address homophobia. Groups like 

Pride at Work

, 

Egale

 and 

CCDI

 provide resources and guidance.

Make it known that your organization is an equal opportunity employer.

Promote diversity at work and direct employees to know and respect the policy

Create a discussion group to address issues related to LGBTQ diversity

Set up networking opportunities for LGBTQ staff and their supporters

Encourage volunteering and fundraising for relevant charities that are celebrating Pride.
The bottom line for business
A company that employs a diverse workforce can draw strength from the variety of talent and different perspectives employees bring to their jobs. Diversity can also improve an organization's level of adaptability, strengthen its ability to provide service to diverse audiences, and ultimately inspire employees to think beyond their own realities and push their boundaries. 
Companies that create an inclusive, supportive environment will also strengthen their reputation and their employer brand, People who feel secure in their workplace, supported by policies that engender acceptance and positivity tend to be more loyal, more focused on their jobs and less distracted and stressed. In addition, this means that the organization will function better across the board, with greater efficiency and, hopefully, better profits.
With leading Canadian organizations like Scotiabank, Bell Canada, Sodexo, and many others celebrating Pride and prioritizing LGBTQ inclusion, the path is clear. Diversity is beneficial for business and a vital facet to success in the 21st century.
Monster has several ways to help position your brand towards LGBTQ inclusivity and showcase your organization as a top choice for candidates.  Monster Studios uses video to give candidates a more human insight to your company, and Monster's employer branding agency The Foundry can provide you with tools and insight to promote your organization as the top choice for LGBTQ job seekers.