Which Benefits and Perks Do You Highlight When Recruiting?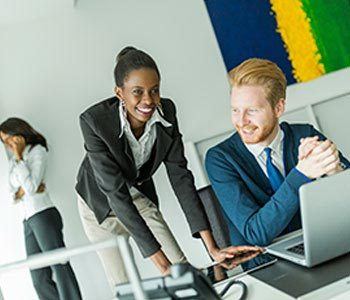 By Mark Swartz
Canadian Workplace Specialist
When smaller employers try to attract new talent, they can't always afford to pay higher salaries or offer expensive perks. So they have to be creative.
 
A report in the Globe and Mail looked at what kinds of benefits, options and perks small business owners highlight when trying to lure top employees to their company. That's the question the
American Express Small Business Monitor
and
Angus Reid Public Opinion
sought to answer when they conducted an online survey among a randomly selected sample of 568 Canadian small business owners with two to 100 employees.

Results Of The Survey
Not surprisingly, higher pay than large employers and comprehensive benefits rank only 9th and 10th respectively. Less expensive perks, such as flexible work hours
and greater independence, top the list.
 
| | | |
| --- | --- | --- |
| Rank | Ways of attracting talent | Percentage |
| 1 | Flexible work hours | 70% |
| 2 | Independence | 63% |
| 3 | Work from home options | 41% |
| 4 | Career development opportunities | 31% |
| 5 | Higher pay than offered by other small businesses | 27% |
| 6 | Opportunities for advancement | 27% |
| 7 | Dynamic business culture | 25% |
| 8 | Profit-sharing | 17% |
| 9 | Higher pay than offered by large businesses | 13% |
| 10 | Comprehensive benefits | 11% |

What This Means For You
The above results may help you breathe a sigh of relief. Possibly you won't have to spend a fortune to be a magnet for talent.
What you may have to do, however, is consider offering flexibility. In terms of work hour arrangements. In letting people work from their homes more. In providing independence and career development opportunities.
These perks don't cost you a lot of money to offer. Instead, they force you to be better organized and staff-focused.

Flexible Work Hours
Job seekers who have small children may need some extra time in the morning or afternoon at home. Applicants who commute longer distances may want to avoid rush hour traffic. Some others may be taking courses in the evening and must leave early to get there.
How do you accommodate these top prospects? By juggling their hours of work. This requires careful examination of core job duties that must be done during prime operating hours. Most employers need many of their staff available from 9 to 5. But can you also find ways to ensure that your key activities are covered during those hours, while letting certain staff come in earlier so they can leave before 5 p.m.? Same for the few who need to arrive at work late morning though they'll stay into the evening.

Independence
Smaller employers tend to have fewer layers of management. This reduction in bureaucracy is appealing to a certain segment of job seekers. It gives people an opportunity to have more say in decisions that directly impact a company's performance.
Can you promise the following elements of independence to new recruits?

·

        
Fewer layers of decision making
·

        
Little or no micro-managing
·

        
Less questioning and after-the-fact reversing of choices made
·

        
More freedom to try new ways of doing things

Work From Home Options
Telecommuting. What with Internet, laptops, Blackberries and scanners at home, we were supposed to free ourselves from the rigid confines of the office. Only that
hasn't quite happened at the expected pace.
It may also be necessary to establish
work from home policies
and guidelines. This way all employees understand what your telecommuting program is about, and how to take part if they qualify.

Get Organized In Order To Offer Better Perks
How much does it cost you to let someone work from home two days a week? How does this compare to offering a more lavish dental plan and extra days of paid vacation?
These are the types of calculations that larger employers make routinely. However smaller organizations may not have much leeway in the benefits they can offer new employees. Spending extra dollars on expensive insurance plans may be out of the question.
This is why being organized can give you a competitive advantage when hiring. You'll need to be on top of things if you plan to offer flex time and telecommuting. Your managers should be savvy about tracking productivity rather than standing over people's shoulders and second guessing their every move.
With some planning and oversight, you may be able to avoid using extra money as your main incentive with new staff. Try giving them more flexibility and independence instead.