Monster And Google Explode Job Ad Visibility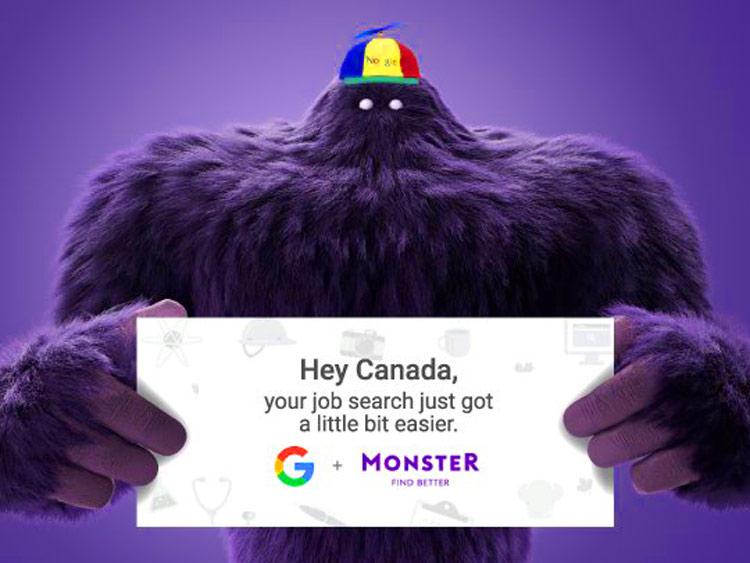 This partnership means employers get even more bang per buck and broader reach.
Monsters seldom settle. Think we're making this up? Google it. While doing that, see how Monster's teamed up with the world's leading search engine. It's a ferocious boon for employers when hiring.
Now job seekers hunting via Google Search can see Monster's postings first. Yep. We brawl to stay top of the heap. This partnership brings oodles more visibility to your ads with our same customer service people roar about.
What's In It For You
We've been clomping around Canada since 1997. Listing jobs on Monster.ca get you noticed. We tear things apart to make our snarls the loudest.
Monster Job Ads and Social Job Ads are howling effective. They reach talent wherever they are – on our site, on social, on mobile, or across our thousands of partner sites. 
With Google Search, we're on a rampage. It surfaces our job posting content precisely, as soon as it's listed, to precisely the people who find it most relevant. You get added eyeballs – ooh, that makes us drool – at no extra charge!
Free Add-Ons For Job Seekers Too
Monsters love mess, but your target audience hates it. With job search on Google, they get fast, at-a-glance details about the position. Job title, location, whether it's full-time, part-time, an internship, and more.
Monsters also roam freely. So with Google Maps, they can pinpoint posted ads in any locale. When signed in, it even shows how long the commute is from their cavern or current stomping ground. If distracted (must eat, must growl), bookmarking the page returns them directly to their search. 
Job seekers are fiercely busy. Good thing they can press "get alerts" for email notices on your newest related jobs. 
More From Monster
Monster.ca offers the best candidate resumes, the biggest job post reach – to both active and passive seekers – and the most value for your recruitment dollar. Through unique advertising opportunities, we promote your employment brand and help your company establish itself as an employer of choice.
Our integrated approach can meet whatever hiring needs you have. We provide an array of services.
•    Talent Management software (applicant tracking, performance and learning management, career development and succession planning)
•    Cloud resume search for the best specific candidates
•    Cloud analytics to measure efficiencies and ROI
•    Candidate Management from sourcing through hire, with Talent Fusion™
People who've had run-ins with monsters have whopping tales to tell. The Foundry by Monster helps recruiters and HR professionals create and convey their compelling brand story, and engage in chillingly engaging conversations with candidates, both online and off.
The Google Gain
Most monsters don't exactly play well with others. Think of Alien vs. Predator. Godzilla vs. Megalon. We're different. Our collaboration with Google is another means of expanding our network.
Job hunters needn't flee Google Search to find your focused job ads. The search site's massive traffic increases your exposure.
All in all, it's nothing to snarl at. Considering it won't cost you any extra, maybe scare up the time to contact us for some profitable brain eating brainstorming!