Company Wellness Program Ideas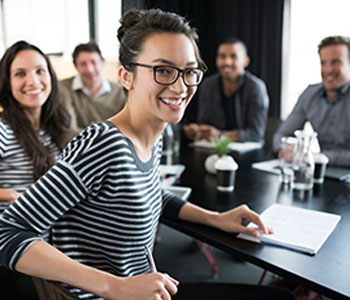 Corporate wellness programs reduce absenteeism, short and long term disability, and prescription drug use, and increase productivity. Here are some ideas for establishing worker wellness through nutrition, exercise, and workplace culture.
* Adapted from "Public Health: Grey Bruce Health Unit"
Worker Wellness (nutrition and exercise)
Build on-site gyms or outsource fitness programs (partner with a company like GoodLife)
Hold health and safety fairs, lunch and learn education
Offer stress management and relaxation training, mental health programs, substance abuse programs including smoking cessation
Organize team challenges, fitness breaks, walking clubs, stretching classes, and onsite yoga
Put together corporate sport teams (soccer, volleyball, hockey, etc.)
Offer on-site medical services including health risk screening and counseling
Have programs for childcare, elder care
Have personal, family, and financial counseling
Nutrition counselling and weight control programs
Promote alternative work arrangements such as telecommuting, job sharing
Stress the importance of healthy snacks and lunches to increase focus, creativity and energy.
Add juice dispensing machines and water coolers and vending machines with low-calorie snack choices
Encourage caffeine-cutbacks and water increases
Work with naturopaths, homeopaths, and promote herbal remedies and vitamins
Work Culture Wellness
Make work demands and expectations realistic and clear
Provide flexibility around work
Increase employees' sense of control
Focus on creating a more supportive work environment
Give positive feedback
Practice two-way communication
Show respect
Focus on output – not hours
Demonstrate consistency
Coach and mentor employees
Encourage participation in decision-making
Encourage workers to voice concerns and make suggestions – and then listen
Establish and maintain trust
Demonstrate fairness
Support work/life/family balance with policies, practices, and culture
Measure employee satisfaction regularly and act on results
Develop incentive and recognition programs
Also – never underestimate the power of a good boss. The Industrial Accident Prevention Association cites various studies which reveal that employees with 'supportive managers' report significantly higher job satisfaction, trust levels, and commitment to the organization. In essence, having a supportive manager reduces employees' perception of stress and allows them to manage work-life conflicts better.
'Wellness' must be seen as a priority in the organization; it's essential for managers to model this positive behaviour. Keep in mind, though, that partaking in health promotion programs should always be voluntary and incentives should not put pressure on workers to change aspects of their lives they're not ready to change.

Additional Resources for Corporate Wellness Programs:
National Quality Institute

Health Canada
The Canadian Healthy Workplace Council
Industrial Accident Prevention Association