How to Manage a Hybrid Workforce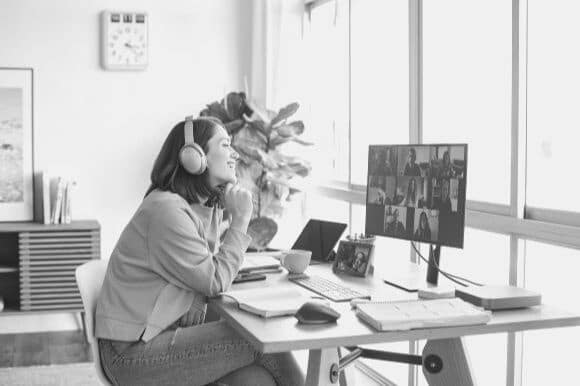 When you manage a hybrid workforce, you need to navigate the challenges and rewards of having employees who work both remotely and in the office. Depending on your policy, your employees may work from the office or telecommute every day, during a set number of days per week, or choose if and when they want to come into the office.
The main challenges are establishing a strong company culture and working relationships, while collaborating effectively. The main benefits include greater productivity from home for some employees, a better work-life balance, and increased employee happiness in general. Also, since many job searchers value remote work, it can help you recruit top candidates and expand your candidate pool.
If you implement these best practices for managing a hybrid team, you are likely to increase employee morale, performance, and retention, making your business more successful.
Prioritise Professional Development
It is imperative to make sure remote and office employees have the same career advancement opportunities. Some managers might invest more in office employees because they see them in person regularly, but for a hybrid model to work it needs to be equitable—otherwise, remote workers might become demotivated and eventually quit.
Fortunately, all of your professional development initiatives can be done virtually. For example, you can encourage managers to set weekly one-on-one meetings, establish clear goals and objectives for all their direct reports, and have quarterly performance reviews so employees receive the feedback and guidance they need to be promoted.
Similarly, you can still provide hard and soft skill training sessions and mentorship programs virtually. Ensure that everyone has access to any other initiatives like "lunch and learns" or professional development stipends.
Adapt Your Company
Job searchers and employees want to work at a company with a strong company culture. Having strong working relationships improves retention and employee engagement, but it can be harder to build and maintain work relationships when people are not chatting in the office, grabbing lunch, or participating in the company softball league.
You may still want to have some in-person events, but also host virtual team-bonding events and encourage your Employee Resource Groups (ERGs) to do the same so your entire hybrid workforce can benefit. The members of your hybrid team are likely to be more engaged, motivated, and collaborative when they have shared goals and objectives and feel appreciated.
Another way to help all your employees feel like part of a cohesive team is to host quarterly town hall meetings. Use these virtual meetings to review what the team achieved the previous quarter, discuss goals and objectives for the next, and acknowledge teams and individual employees for their performance.
Focus on Communication
It is important to focus on clear communication so both your remote and office employees are on the same page. Decide which collaboration tools to use and when to use instant messaging, email, calls, or video. Additionally, you may want to require everyone to use file-sharing tools and have a way to join any meeting remotely.
Encourage each team to have weekly meetings to discuss projects, goals and objectives, and team and individual accomplishments. Avoid miscommunications by asking managers to have project kick-off meetings, clear project guidelines, action items, and deadlines.
Set a Schedule
Depending on your remote work policies, you might have employees working in different time zones. It can be helpful for your team members to have a public calendar and set working hours so co-workers know when they are available.
One of the benefits of having a hybrid workforce is an improved work-life balance, especially if your company has a flextime policy. However, many employees work longer hours, including nights and weekends, because it can be difficult to set boundaries when your kitchen table doubles as your desk.
Some employees may work through their usual commute time, send off a few emails late at night, or feel like they need to be available if they are working different hours than most of the team because of time zones or flexible schedules. Encourage your team to only work during their off-hours when it is necessary, because employee burnout can decrease productivity, performance, and retention.
Need More Help With Your Hybrid Workforce?
There is no one-size-fits-all model when it comes to the hybrid structure that works best for your company — and plenty of lessons to be learned along the way. If you want to jump-start the learning curve, Monster has expert resources to build a remote workforce that fits your needs. Find out more today.