Recruiting Solutions: NAFTA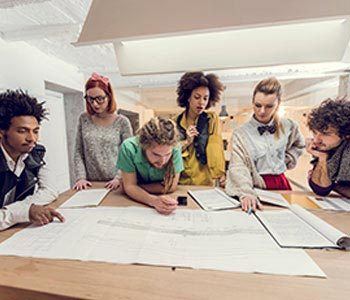 Having trouble finding Canadian professional workers? Consider looking south. The North American Free Trade Agreement (NAFTA) was created to facilitate trade between Canada, the United States, and Mexico – including the trade of skilled labour. There is a potential labour pool of millions in the United States and Mexico that your business can take on as temporary (long term, if you wish) foreign workers. Whether you need accountants, engineers, teachers, or health care professionals, the NAFTA has made it simple for Canadian employers to hire American and Mexican professionals (for vocations included in the list below).
It all starts with a job offer from you.
The job offer is simple enough. An employment contract or a letter of offer, which states the name of the Canadian employer, the position details (title, duties, salary, duration of employment), and the necessary qualifications, is all that is needed. Present this document to your future employee and your work is done.
With your job offer in hand, the foreign professional can apply for a work permit. Facilitated entry under the NAFTA allows professionals to apply for their work permits at any Canadian port of entry. They can also apply at a Canadian visa office before heading to Canada. If, however, the position you are hiring for is in the health care, child care, or food handling domains, the foreign professional will likely have to undergo a medical examination prior to landing in Canada and will therefore need to apply through a Canadian visa office.
Regardless of where the American or Mexican professional applies for the work permit, the Canadian immigration officer will expect the following documentation:
Proof of identity and citizenship;
Signed contract or offer of employment;
Documents to prove the applicant's education, qualifications and work experience;
Canada Work Permit Application form.
As long as the immigration officer is satisfied that your future employee meets all medical, security, and criminal clearances, the work permit will be issued on the spot for a $150 CDN fee.
And your foreign professional is on the way. Not only simple, but quick. All it takes from you is that job offer and you'll have American and Mexican professionals on your doorstep, ready to work, in a matter of days. The work permit is valid for one year and is renewable from within Canada, for one year at a time, indefinitely. So expand your recruiting and hiring horizons. You won't have to look far.
David Cohen
Immigration Expert
www.canadavisa.com  
NAFTA's List of Professionals
General
Accountant
Architect
Computer Systems Analyst
Disaster relief Insurance Claims Adjuster
Economist
Engineer
Forester
Graphic Designer
Hotel Manager
Industrial Designer
Interior Designer
Land Surveyor
Landscape Architect
Lawyer (including Notary in the Province of Quebec)
Librarian
Management Consultant
Mathematician (including Statistician)
Range Manager/ Range Conservationalist
Research Assistant (working in a post-secondary educational institution)
Scientific Technician/Technologist
Social Worker
Sylviculturist (including Forestry Specialist)
Technical Publications Writer
Urban Planner (including Geographer)
Vocational Counsellor
Medical/Allied Professional
Dentist
Dietitian
Medical Laboratory Technologist (Canada) Medical Technologist (Mexico and the United States)
Nutritionist
Occupational Therapist
Pharmacist
Physician (teaching or research only)
Physiotherapist/Physical Therapist
Psychologist
Recreational Therapist
Registered Nurse
Veterinarian
Scientists
Agriculturist (including Agronomist)
Animal Breeder
Animal Scientist
Apiculturist
Astronomer
Biochemist
Biologist
Chemist
Dairy Scientist
Entomologist
Epidemiologist
Geneticist
Geologist
Geochemist
Geophysicist (including Oceanographer in Mexico and the United States)
Horticulturist
Meteorologist
Pharmacologist
Physicist (including Oceanographer in Canada)
Plant Breeder
Poultry Scientist
Soil Scientist
Zoologist
Teachers
College
Seminary
University