Review Candidates
Once you've entered all of your search criteria, it's time to review all of the candidate matches on your search results page. This article will show you around and teach you how to efficiently manage your star candidates though a variety of actions.
Watch & Learn: Reviewing Candidates in SearchMonster
Let's take a tour of your candidate results page.
Before we dive in…
It's important to know that the actions you take on a candidate will impact your inventory. There is an inventory counter at the top of your results page for your convenience. For more on this and how candidate actions effect your inventory, review our Inventory Management Article.

Your search results page has a 3-panel layout for easy viewing:
The left panel: Access all of your search criteria. Feel free to add, remove or adjust any criteria and click update at the bottom of the pane to refresh your list and narrow your results.
The middle panel: Get a quick candidate summary including name, current title, location, top skills and more.
The right panel: Get all the details here, including the Monster Profile, the resume and access to a variety of candidate actions.
Don't forget about your lists!
Each of the top tabs will bring you to a list of candidates as you've categorized them.
Matches will always bring you to your main search results page.
Click Favorites to view the candidates you've marked as a favorite. It's a good practice to add candidates to this list as they will be the first to receive your auto messages.
Click Skipped to view the list of candidates that wouldn't be a good fit. These candidates will never receive your auto messages because skipping them indicates that you are not interested in them for this particular role.
Click on Compare to get a side-by-side view of candidates you're interested in. (To learn more about this, click on the Compare Candidates tab above.)

SearchMonster makes it easy to narrow your results, so you can spend time reviewing the right candidates – right from the start.
See how it's done.
Learn how to zero in on top candidates using filters in SearchMonster.

There are a variety of candidate actions in the candidate card as well as in the profile pane. This is where you can manage, share and compare your favorites, add notes, send messages and more. Each action is described in detail below.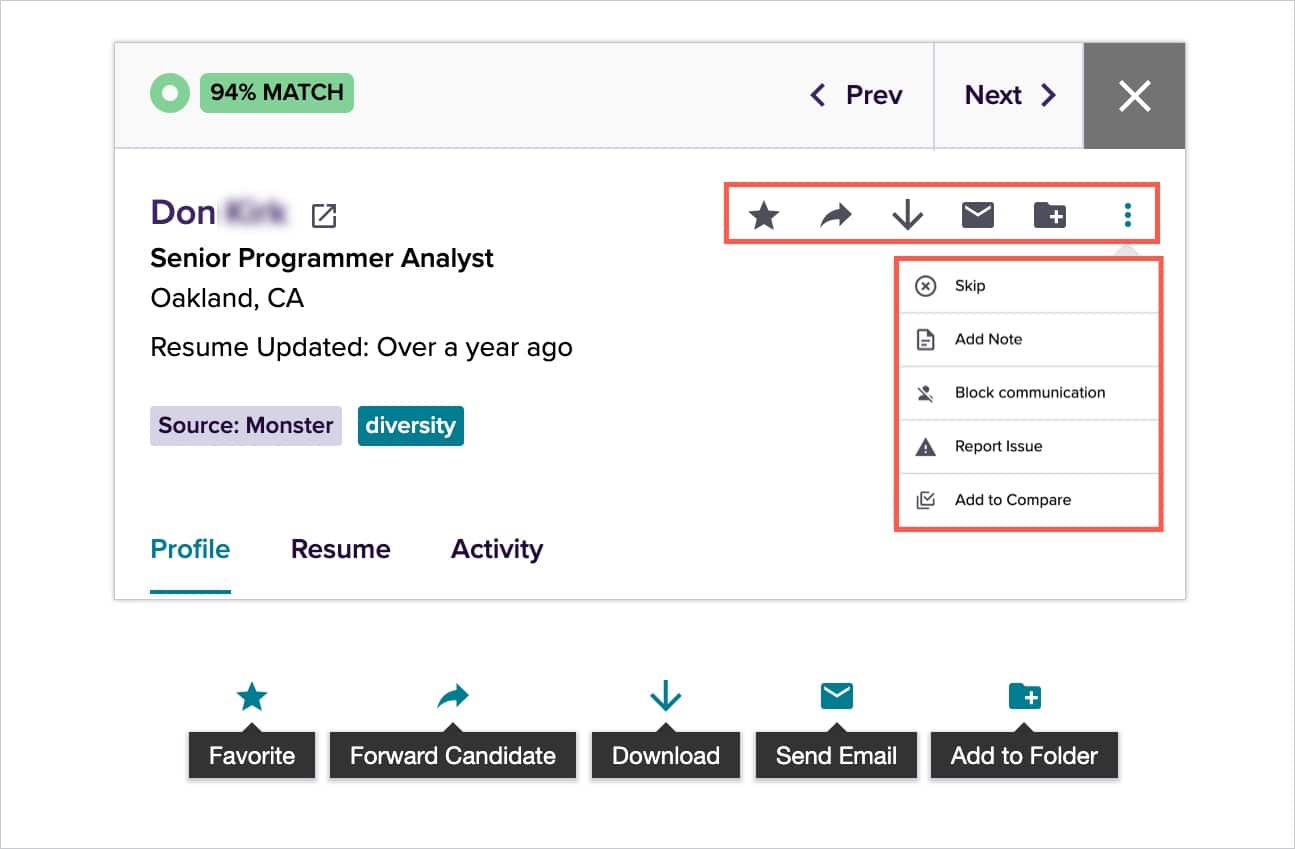 Favorites will help you keep track of your star candidates, and they will be the first to receive your auto messages. When marked as a favorite, the candidate card will have a blue star at the top.
Forward Candidate will allow you to email a copy of the candidate's resume to a recipient with your personal message.
Download will download the candidate's resume to your computer.
Send Email will trigger a pop-up window where you can send a personalized message to the candidate.
Add to Folder will keep your candidates organized in the folder of your choice.
Skip will give you the ability to remove candidates from your auto messages.
Add Note is just what it sounds like. Add notes to reference later – for your eyes only, or make them public to your team. They can be viewed in the candidate's activity tab.
Block Communication will remove your ability to perform action on this candidate and they will not receive your auto campaign messages – in case you've talked to them, hired them, ruled them out, etc.
Report Issue if a resume is fraudulent or needs our attention.
Add to Compare if you want to view this candidate against others. View up to 5 candidates side-by-side.

When a you or another user in your company takes action on a candidate, you will see an activity icon appear on the candidate card. Clicking this icon will open the Activity Tab for this candidate on the right pane. Select the activity from the "Filter activity by" dropdown menu to view what actions have been taken on this candidate.

The following actions taken by you or your colleagues are tracked in this tab:
Send Email
Forward Resume
Add to Folder
Add Note
All actions are viewable to Admins, Super Users and Standard Users with one exception. Standard Users will not be able to view Notes marked as private.
See how it's done!
Check out our video to learn how you can organize, compare and take action on your top candidates.
If you know you've got a great list of candidates, and you want to perform the same action on a number of them, this is a great case for bulk actions.
To access the Bulk Actions Menu check the box on the top left corner of your candidate card. This will open the bulk actions menu above your results.
To select all candidates on this page, click the checkbox at the top, or check the boxes next to each candidate you want to select.
Choose an action to apply it to all of the selected candidates. You can: Favorite, Add to Compare, Skip, Forward, Download, Email, and Add to Folder.To close the menu just click the X on the right.

If you're trying to see which candidates stand out against the rest, click on the Compare Candidate icon either in the candidate card, profile, or bulk actions menu. You can choose up to 5 at a time and when you're ready to review, click on your Compare list at the top.
Your Compare page will show you a side-by-side view of your selected candidates. Click one of the checkboxes on the candidate cards to open the Bulk Actions Menu and perform an action on multiple candidates at a time. You will also see favorite and skip actions in each column for easy sorting, and if you wish to remove one of these candidates from your compare list, just click the compare icon and your list will refresh.
You will be able to compare Work Authorization, Location, Most Recent Job Title, Most Recent Company, Experience, Relevant Skills, Desired Salary, Years of Experience, Education and Relocation.
To return to your search results page, click the Matches tab at the top of your list.

If you would like to receive a notification when new candidates that match your search criteria are found, just click the Enable Notifications switch at the bottom of the Search Results page.
See how it's done!
Watch how you can set up email notifications when new candidates match your search.